Each spring, the GFWC Intermediate League of Butler, PA sponsors their annual Butler Antiques Show and Sale. Every year, during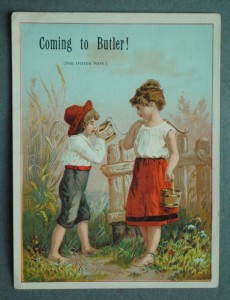 the third weekend in March, 42 dealers and countless collectors gather for a great weekend of buying, selling and fun. The show is held at the Tanglewood Center in Lyndora, and offers one of the best opportunities in Western PA for antique lovers to connect and collect.
The 2017 Show will be held on the third weekend of March:
Friday, March 17 – 6:30-9:30 pm $10.00 Preview and Sale
Saturday, March 18 – 10:00 am – 5:00 pm $6.00 Admission
Sunday, March 19 – 11:00 am – 4:00 pm $6.00 Admission
All Preview Tickets purchased for Friday night are valid for all three days.
A ticket purchased on Saturday is valid for both Saturday and Sunday.
Click here for a printable admission discount coupon
Click here for a printable Google map and directions
For more information, call 724-287-7959 or 724-283-3033.
The show presents a terrific opportunity for collectors to acquire rare finds, and for those who are curious to learn about the value of the kinds of antiques they may already own.